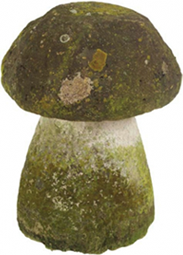 The Staddle or Saddle Stone:  It is a low mushroom shaped stone arrangement of a conical bottom (cone like shape) with a flat or slightly domed shaped circular stone resting on top.
 Many times these stones were made of a single stone, but most often the merging of the two shapes.  They date from the 17th and 18th centuries and were developed through "need".  They were practical foundation stones which kept wooden structures from rotting, with the cap also acting as a barrier to vermin trying to gain access to stores of hay, grain or game.
These two saddle stones were recently housed at our Architectural Antique Shop -RF ANTIQUES- but, because they are quite coveted by avid gardeners or those wanting to own a piece of history and something unusual, we do not keep them long in our courtyard!