FRENCH Style FIREPLACE
   French fireplaces are different than what is typically known or seen in the United States.  A traditional fireplace in the U.S. is usually a raised hearth made of stone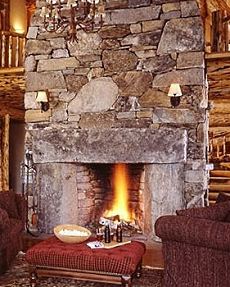 or brick.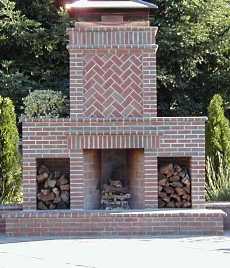 Many American fireplaces also have wood mantle surrounds.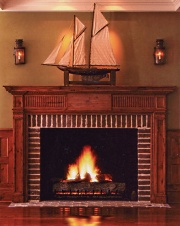 picture credits for the above are from:
www.standout-fireplace-designs.com
A French fireplace will be made, more than likely, of limestone with a  more stylish and ornate back that rests atop the mantle.  It may also just be a mantle that rests flush against the wall or it may have another type wooden (trumeau) accent sitting on top of the mantle.
A limestone trumeau sits atop the mantle shown below.
The history of the fireplace evolved in the 18th century when two important developments emerged.  The first was the development of the convection chamber creating more heat efficiency by pulling air from a basement and venting out of the top.  The second development came when in the 18th century fireplaces were designed with a more tall but shallow firebox creating a better situation for drawing smoke up and out. This "shallow" design also improved the amount of radiant heat projected into the room.
This all caused the fireplace to move from being solely functional to an opportunity to add visual appeal to a room.
The French for over two centuries have maintained a strong reputation as leaders in fireplace design and heating efficiency.  Two manufacturers, Codin and Cheminee Philippe remain in the forefront.
RF Antiques carries French fireplaces….
and French fountains….imported to Fairhope, AL.
To purchase and own one of these French fireplaces or fountains from us is a cost saving luxury.  Our imported French fireplaces & fountains have a reputation in outstanding design, innovation and technology necessary to provide a good heat source to an area in your home — inside or out. Below are just a few of our fireplace surrounds we have for sell!
FRENCH Style FOUNTAIN
And our selection of fountains are just as plentiful!  We offer small and large scale fountains — the same for our fireplace surrounds.
The first known fountains in France were built by Roman engineers in the first and second centuries A.D.  Fountains in France provided drinking water to the inhabitants of France, to French monasteries and to villages during the Middle Ages. Later, they were symbols of royal power and grandeur in the gardens of the kings of France.
Today, though they no longer provide drinking water, they decorate the squares and parks of French cities and towns.
French fireplace mantles certainly can add simplicity to a room to keep things uncomplicated or add opulence. The two pictures below are a juxtaposition of this concept – from plain and simple to quite ornate.
The picture below is borrowed from neutralheaven.blogspot.com
Ornate French Rococo mantel – below (1stdibs.com)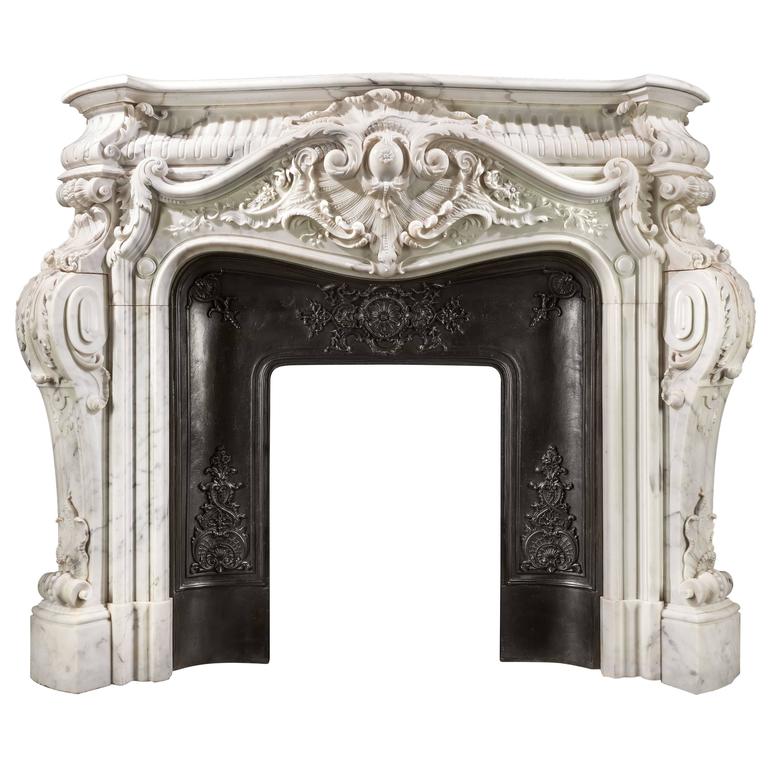 One of the many fountains in Luxembourg Gardens – Paris, France
Our selection of French fireplaces and fountains are more simple and classic in style that blend well with American lifestyles.  Our fireplaces & fountains do not resemble the two ornate and grand ones pictured directly above!
View all of our selections for fireplaces and fountains on our website rfantiques.com
Contact us directly at 251-928-8336 for specific information – A direct contact for information will be Rob Fargason who has  vast knowledge of all the fireplaces and fountains.  
Au Revoir!  A La Prochaine!!